Heartbreaking photos show emaciated grizzly bears wandering through the Canadian wilderness after freak salmon shortage caused by warming waters and open fish farming – just one month before they're supposed to go into hibernation
Shocking photos of an emaciated mother grizzly bear and her two starving cubs have gone viral 
Photographer Rolf Hicker snapped the animals searching for food on the Knight Inlet in British Columbia 
He said he saw the bears several times, desperately searching for food amid a salmon shortage
Commercial fishermen in British Columbia have called this year the worst salmon season in nearly 50 years 
A report by Fisheries and Oceans Canada said that climate change is negatively impacting the fish stocks  
In Alaska, the Katmai National Park is celebrating Fat Bear Week 2019 – a far cry from the Canada photos
The week is meant to celebrate fattening bears before they go into hibernation in November https://www.dailymail.co.uk/news/article-7532501/Heartbreaking-photos-emaciated-grizzly-bears-Canada-salmon-shortage.html
Death by drowning: Al Gore told us this was the future of polar bears but it wasn't
In this short interview clip with Friends of Science director Michelle Stirling, I talk about the drowning polar bears in Al Gore's 2007 movie that he implied would lead to the extinction of the species. Except that it didn't…
My new book, The Polar Bear Catastrophe That Never Happened, explains why.
These starving polar bears falsely blamed on climate change have scared kids to death
If you see kids marching with signs like the one below – from a protest earlier this year in Montreal – you know they have seen the white lies that have been spread online. Note the poster starving bear below compared to the real-life on from 2015 above.
Here I summarize the truth about all four of these starving polar bear images that have been used since 2009 to emotionally manipulate the public (especially young girls), into getting on board the climate change band wagon. Rational people have seen through the rhetoric and come to realize that climate change is virtually never the cause of starvation. However, some poor kids have been scared to death by these images and the stories of climate change catastrophe they inspired – they are very real victims of climate change messaging at its worst.
2009 AN ACT OF CANNIBALISM
An act of cannibalism by a lean – but not starving – adult male in November 2009 near Churchill was witnessed by tourists and caught on film by professional photographer Daniel Cox. It was falsely blamed on climate change by polar bear specialist Ian Stirling. The truth is that even fat adult males will kill and eat cubs: they don't do it just because they are desperate for food. The news media ran with the story and despite rational people trying to set the record straight, the images and false message went viral on social media. My take on it and other incidents of cannibalism here and here.
2013 – SVALBARD STARVING DEAD BEAR
In August 2013, polar bear specialist was acting as a guide for wealthy tourists in Svalbard, Norway when he came across the carcass of an emaciated polar bear. Stirling told the media it had probably died from lack of sea ice caused by climate change when he had no evidence that this was the case. Starvation is the leading natural cause of death for all polar bears. More on another dead starving bear sob story from 2014 here.
2015 – SVALBARD STARVING BEAR
The hype over a photo of an apparently injured and emaciated polar bear near Svalbard was almost entirely social-media-driven. A photographer with no knowledge of polar bears took the picture and posted it on Facebook with her uninformed speculation that this was caused by climate change to get an emotional reaction from people – and it went viral. Traditional media stories followed. Norwegian polar bear specialist Magnus Andersen pointed out that the photographer's conclusion was erroneous and reiterated my point that starvation is the leading natural cause of death for old animals. This time, Ian Stirling stated that lack of sea ice was not likely the cause of this bear's condition but that it was probably hurt or sick.
2017 – NATIONAL GEOGRAPHIC STARVING BEAR
This is the video that jumped the shark – the film of an emaciated bear on Somerset Island in the Canadian Arctic (falsely report initially as Baffin Island) used to tell the public that "this is what climate change looks like." The video went mega-viral, apparently viewed more than 2.5 billion times. Some questions were raised about the photographer's ethics in his quest for an image to fit his global warming message. National Geographic later apologized for the message, admitting that there was no evidence that climate change had caused the bear's poor condition. It was the biggest of the four white lies.
Canada: workers race to free millions of salmon trapped after huge landslide,
Rockslide on banks of Fraser River created impassable barrier
Heavy machinery and helicopters used to help gather fish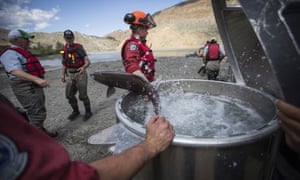 Helicopters, heavy machinery and nearly 200 workers are frantically working to free millions of salmon trapped by a landslide in western Canada.
Government crews in the area have worked relentlessly along the banks of the Fraser River to clear debris after a rockslide, discovered in a late June, created an impassable 5m-high waterfall.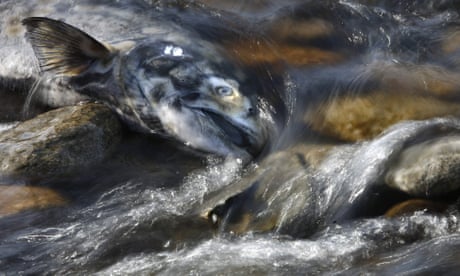 Read more
Each year, several species of Pacific salmon – sockeye, chinook, pink and coho – travel up British Columbia's Fraser River to reproduce. But the newly formed barrier has blocked the fish from accessing critical watersheds for egg laying.
Weeks of excavation have shown success: already, 12,000 salmon have passed through carefully constructed channels. And 44,000 salmon – as many as 3,000 per day – have been transported by helicopter.
"Nothing is off the table unless it's determined as not being feasible. We are looking at any and all options," Michael Crowe of the Department of Fisheries and Oceans, told reporters on Wednesday. The team hopes to continue moving fish by truck, after the road was rebuilt, as well as developing a fish ladder.
Emergency crews have leaned heavily on local Indigenous communities, and their knowledge of salmon spawning, to help gather tens of thousands of fish.
"First Nations' technical knowledge in fish capture – from beach-seining crews to a second fish wheel – underpins the operation," said the government in a media release.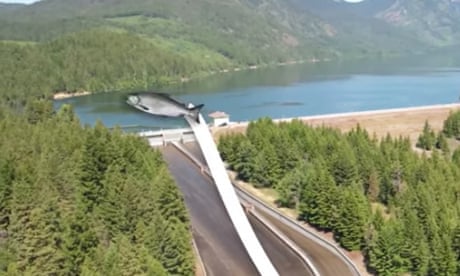 Read more
Muddy, fast-moving water has made it difficult for officials to estimate the number of salmon trapped below the landslide site. In previous years, said Crowe, millions of salmon would be passing through this section of the Fraser River. A number of fish have been outfitted with radio tracking collars in order to give a clearer picture of how many have successfully moved upstream.
The landslide, and the frantic effort to clear it, highlights the barriers – natural and human-made – that salmon face each year.
In much of western North America, hydroelectric dams have blocked critical spawning routes. In recent years, the plight of displaced salmon has prompted increasingly dramatic attempts to move the fish, including the "salmon cannon" – footage of which recently went viral.Advertisement
The efforts in British Columbia to free the trapped salmon comes amid a difficult times for the fish: recent data suggests sockeye salmon have plummeted 75% over the last century in Canada. Last week, the department of fisheries and oceans confirmed the dire state of sockeye when it warned only 600,000 were expected to spawn this year, as apposed to the normal return of five million. Chinook salmon, which are also stranded in the river, are also endangered.