The Science Behind Santa Ana Winds, It Posted Below The News Story
The gusty Santa Ana winds that fanned multiple fires across Southern California this week will stay in the forecast at least through Friday evening as thousands of Southern California Edison customers remain in the dark.
The National Weather Service warned of "extreme red flag warning conditions" for much of Los Angeles and Ventura counties, "especially in the morning hours when winds will be strongest." Similar conditions are expected for mountains and valleys of the Inland Empire and the inland portions of Orange County.
A National Weather Service map shows areas in Southern California that are under a red flag warning through Oct. 25, 2019.
Northeast winds will be the most powerful in the mountains, with gusts up to 40 to 64 mph. Temperatures will hover from 87 to 97 degrees and humidities will drop as low as 2 to 9%, the weather service said.
This means any ignition could potentially grow at a rapid and dangerous rate, forecasters added.
The red flag warning is effective through at least 5 p.m.
SoCal Edison power cuts
About 31,000 SoCal Edison customers lost service at the height of preemptive power cuts during this Santa Ana wind event, company spokesman Robert Viellegas told KTLA.
The utility has restored electricity for about 10,000 of them, but the rest remain without power as of 6:30 a.m. Friday.
That includes about 10,300 customers in northwest L.A. County, Antelope Valley and San Fernando Valley, and more than 7,400 customers in Fontana, Rialto, Rancho Cucamonga, San Bernardino, Chino Hills and other unincorporated areas of San Bernardino County. Around 4,700 customers affected reside in Moorpark, Fillmore, Santa Paula, Camarillo, Ventura and some unincorporated areas of Ventura County.
Viellegas said the company has notified about 386,000 more customers that they could have their service cut.
The utility has not determined whether or not the power shutoffs will continue over the weekend, Viellegas said.
"We will wait out the weather," he added.
SoCal Edison's website has the latest list and maps of communities affected. Customers can also sign up online to receive power cut alerts from the utility.
RELATED STORIES
00:53
What You Should Know About Santa Ana Winds
Downsloping wind funneled through the Mountains into the LA basin where the fire threat increases.
At a Glance
Notorious offshore winds of Southern California typically ramp up in October.
These high winds can down trees and power lines.
The biggest concern is the potential for these winds to rapidly spread wildfires.
Offshore winds in Northern California are also dangerous.
Named for one of the canyons through which they typically howl, Santa Ana winds are strong north-to-northeast winds that occasionally blast through parts of Southern California.
They are most common from October through March, according to a 2017 climatology study, but can occur anytime from September into June.
Santa Ana winds are produced when an area of surface high pressure builds into the Great Basin, setting up a large, anomalous pressure difference between the inland high and lower pressure near or off the coast.
If winds several thousand feet above the ground are also from the north or northeast, as they would be when an upper-level low-pressure system is swirling over Arizona, southern Nevada or northwestern Mexico, those stronger winds aloft could be pushed down to the surface, worsening the magnitude of the event.
Southern California's mountains don't allow these north-to-northeast winds to simply flow from the high desert to the coast in a straightforward fashion.
Instead, these winds are forced to squeeze and accelerate through mountain passes and canyons, such as the Santa Clara River Valley (including Interstate 5 northwest of downtown L.A.), Cajon Pass (I-15 north of the Inland Empire), the Santa Ana mountains of Orange County and Banning Pass (I-10 west of Palm Springs).
The strongest winds can be found just below passes and the mouths of these canyons, usually with gusts up to 60 mph. Nearby locations not near a pass or canyon may have light winds.
They usually peak late at night and in the morning, as nighttime cooling of the high desert air only strengthens the pressure difference discussed earlier.
In stronger Santa Ana events, damaging gusts to 70 mph will be more widespread, and the windiest canyons, such as Fremont Canyon in Orange County, will see gusts of 100 mph.
If the weather pattern described earlier remains in place, Santa Ana winds could occur for several days.
These offshore winds aren't simply limited to Southern California. They're known as Diablo winds around the Bay Area, and can also occur along the western slopes of the Sierra.
These damaging events in otherwise sunny skies might be hard to comprehend for those in other parts of the world where such winds usually accompany a storm with rain or snow.
Here's what the #SantaAnaWinds look like in Sylmar, not easy to walk outside in this wind and car was getting blown around on the 210 freeway @ABC71049:33 AM – Oct 15, 2018Twitter Ads info and privacy57 people are talking about this
What Impacts These Winds Could Bring
The biggest concern, by far, in most Santa Ana wind events is the danger from wildfires.
What makes them particularly dangerous in October is that they occur when soil moisture is lowest and vegetation driest after the summer dry season.
These Santa Ana winds can whip an existing wildfire, just-developed small brush fire or smoldering campfire into an inferno within minutes or hours.
A hot, dry, shifting wind is a nightmare for firefighters anywhere.
The Tubbs Fire, which destroyed 5,636 structures in Napa and Sonoma counties last October, ranks as California's most destructive wildfire, according to Cal Fire. A majority of the most destructive California wildfires have occurred in October.
(MORE: California's Most Destructive Wildfires)
Of course, these high winds can also down trees, knock out power, damage mobile homes, blow cars and trucks off the road and produce areas of blowing dust and reduced visibility.
They also can produce dangerous low-level wind shear and turbulence, as many approaches and climbs after take-off occur over the mountains. They can even be a boating hazard.

NWS Los Angeles✔@NWSLosAngeles
Here's the latest #GOES16 water vapor since our previous post. Yellow indicates extremely dry air and wavy lines assoc with mountain turbulence. Surfacing wind gusts over 60 mph persist in #SoCal mountains & foothills this morning. #CAwx #LAweather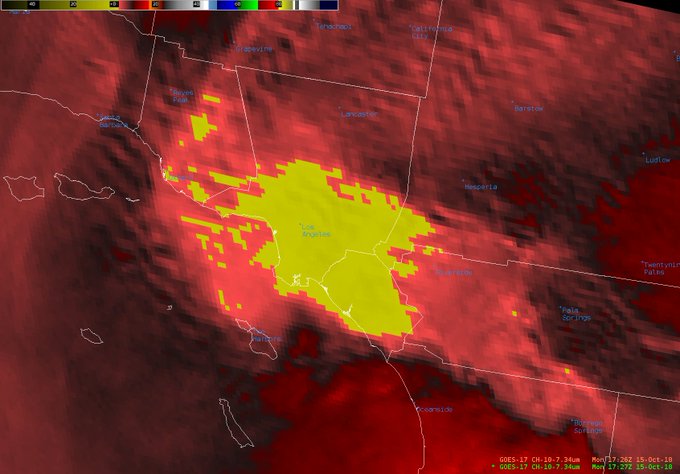 https://weather.com/science/weather-explainers/news/2018-10-15-santa-ana-winds